​

​
The world is changing rapidly and in different ways. The future is becoming less predictable. Looking at the many game-changing technological innovations and the evermore increasing speed of doing business, it is easy to see that organizations need to come up with suitable answers about how they want to run their business – Leading change with disruptive thinking?
​
It's time to be aware of our external and internal conditions, to reconsider whether our habits and mindsets that have made us successful in the past still relevant. Whether traditional habits and mindsets could fit in the context of disruptive thinking? How essential role of leadership is effectively exercised in processes of innovation and disruptive change?
​
You are invited to the MSM MBA Coffee Talk 23 in collaboration with ManpowerGroup Vietnam with the topic:
​
"Disruptive Thinking"
​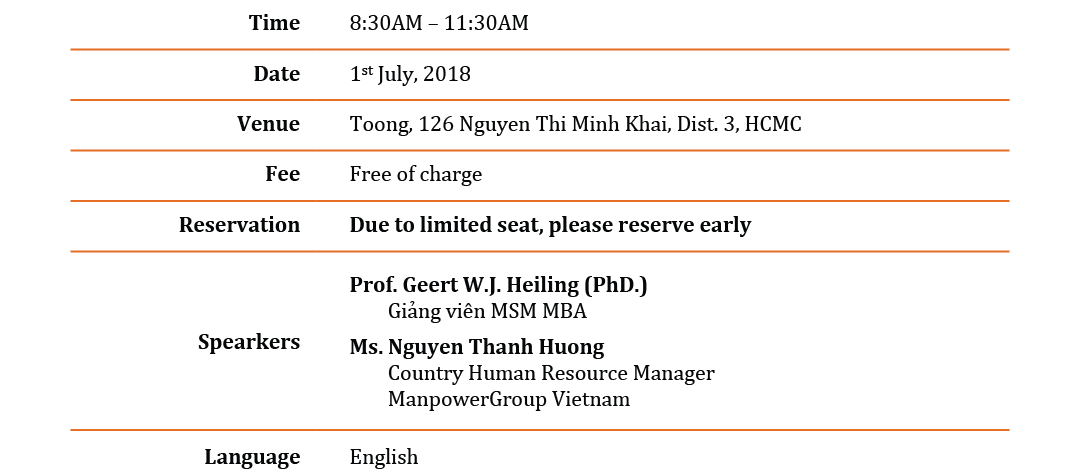 ​
JOIN OUR EVENT TO GET THE ANSWERS TO THE FOLLOWING QUESTIONS:
Why Disruptive thinking in unpredictable business environment?

Facilitating Innovation and leadership: disruptive thinking versus 'old school'?

Disruptive change: what consequences for organizations and leaders?
Agenda
​
| | |
| --- | --- |
| 8:30 - 9:00 | Welcoming guests |
| 9:05 - 9:40 | Presentation by Prof. Dr. Geert W. J. Heling |
| 9:40 - 10:30 | Presentation by Ms. Nguyen Thanh Huong |
| 10:30 – 11:30 | Panel discussion & QnA |
| 11:30 – 12:00 | Introduction about ManpowerGroup and MSM MBA |
​
Speakers
​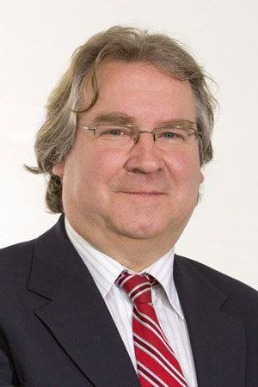 Prof. Geert W.J. Heling, PhD
MSM Professor of Organizational Behavior
Prof. Geert Heling is MSM Professor of Organizational Behavior. He holds a M.A. in Psychology from the University of Nijmegen (the Netherlands) and a Ph.D. in Behavioral Science from the University of Nijmegen.
Prof. Geert W.J. Heling, PhD is a senior professional Management Consultant with practical experience in training and consultancy for over 20 years. Heading his own company, Médoc Management Consulting, most of his projects focus on processes of Business Improvement, Management and Organizational Development, Change and Learning. Typical projects range from Organizational Development, Revitalization, Change and Restructuring, Performance Management Implementation to Management Team Training and Coaching. Clients are large and medium sized organizations, national as well as international (profit as well as public sector).
With his academic background in Cultural Psychology Dr. Heling has always been particularly intrigued by and also practically engaged in International and Cross-Cultural Management and Education.
Based on the conviction that practice in consultancy needs to be coupled with sound theory Dr. Heling combines his consultancy work with a (part-time) position of Full Professor in Organizational Behavior at MSM, the Maastricht School of Management.
As a professor and consultant Dr. Heling has travelled the world, consulting, training, lecturing, conducting seminars, and doing research in many different countries.
​
​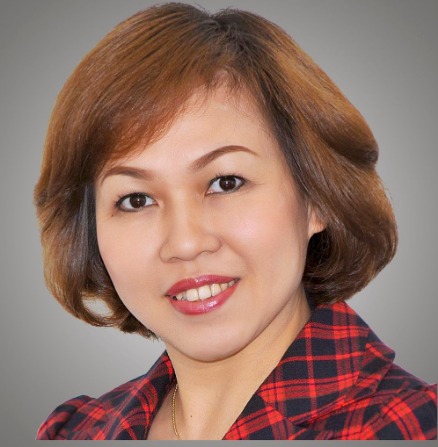 Ms. Nguyen Thanh Huong
Country Human Resources Manager - ManpowerGroup Vietnam
Huong Nguyen Thanh has been with ManpowerGroup Vietnam since January 2018 as Country Human Resources Manager. As an expert in human management, what sets her apart from other executive managements are her intensive knowledge in this field and the art of human management. Besides, her in-depth understanding of local workforce market helps her create effective Human Resources strategies.
With more than 20 years of experience in Human Resources (HR) sector in multinational organizations, such as BP Petco Ltd, TNT Vietnam, Bayer Vietnam, Mercedes Benz Vietnam and Metro Cash & Carry Vietnam, she has proved her expertise in leading Internal HR Department at ManpowerGroup Vietnam with key responsibilities comprising of talent management, corporation culture development, employee engagement and change management. Huong plays an essential role in shaping a professional environment for highest business productivity.
Huong Nguyen Thanh holds Human Capital Management Distance MBA Program from Henley Business College (UK) and professional Certificates in Human Resources.
​
Please fill in this form to subscribe to our upcoming events. We will contact you shortly!

​

​
​
​
​
​
MSM MBA
Coffee Talk #23
DISRUPTIVE THINKING
8:30AM - 11:30AM, July 1, 2018 | TOONG - 126 Nguyen Thi Minh Khai, Dist. 3, HCMC.​
​
​