Candidate Analysis to Recruit The Right Talent
Understanding candidates' technology preferences is critical to attract the right talent. ManpowerGroup's Siri, Find Me A Job whitepaper shows that 31% of candidates have clicked on a job-related social media ad and up to 73% of Early HR Tech Adopters click on social media ads. However, despite technology preferences, candidates still value human connection and select high-touch, in-person interviews as their number one preference.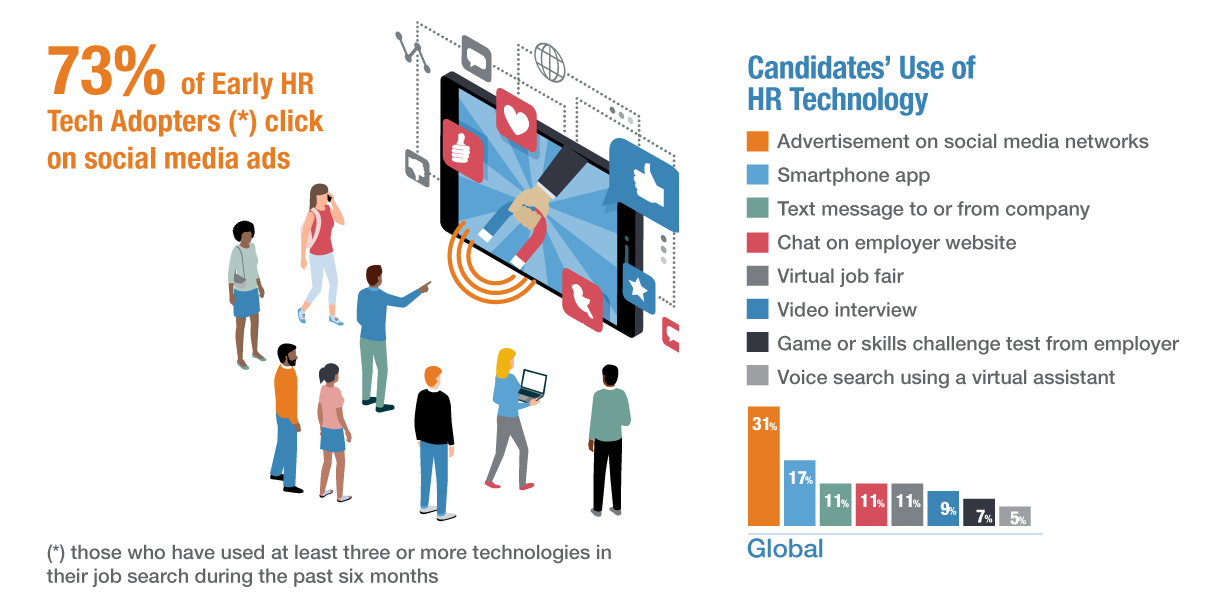 ​
Best Content Practices from LinkedIn
Understanding member intent and how content can help you start conversations and build trust with relevant audiences on Linkedin. Learn how to effectively use Linkedin's publishing capabilities to amplify your voice, personal brand and professional expertise is very important practices you should not miss.
​
Best Recruitment Practices

from E-commerce, FMCG & Manufacturing

While we know how important employer branding and best content practices play in attracting right talent for organizations, we may not know well how we can deploy these practices effectively in diverse industries. Discover more with insightful sharing by leading HR experts from Shopee & AirPay, Mondelez International and Jabil Vietnam.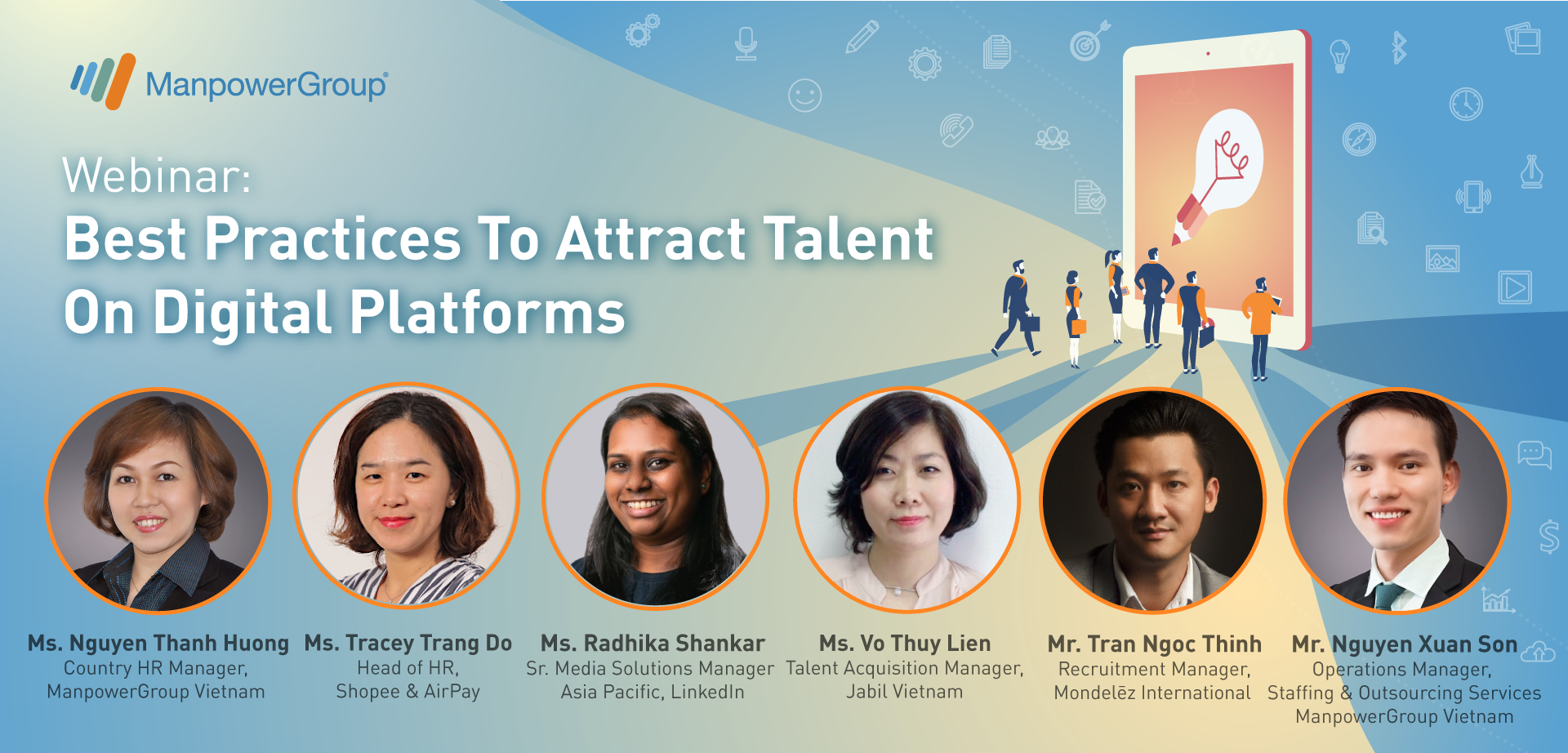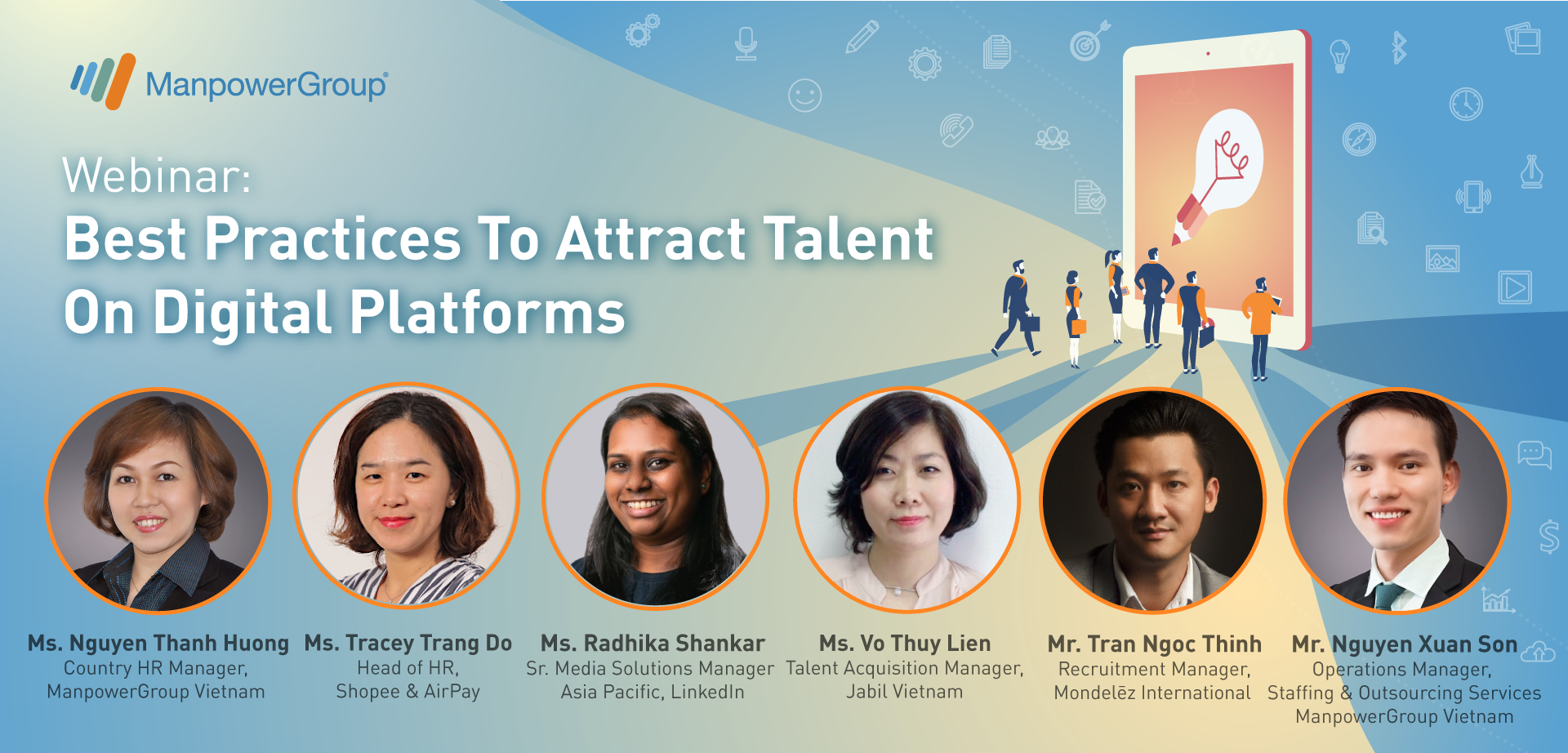 Nguyen Thanh Huong

Country Human Resources Manager, ManpowerGroup Vietnam

​​Huong Nguyen Thanh has been with ManpowerGroup Vietnam since January 2018 as Country Human Resources Manager. As an expert in human management, what sets her apart from other executive managements are her intensive knowledge in this field and the art of human management. Besides, her in-depth understanding of local workforce market helps her create effective Human Resources strategies.With more than 20 years of experience in Human Resources (HR) sector in multinational organizations, such as BP Petco Ltd, TNT Vietnam, Bayer Vietnam, Mercedes Benz Vietnam and  Metro Cash & Carry Vietnam, she has proved her expertise in leading Internal HR Department at ManpowerGroup Vietnam with key responsibilities comprising of talent management, corporation culture development, employee engagement and change management. Huong plays an essential role in shaping a professional environment for highest business productivity.Huong Nguyen Thanh holds Human Capital Management Distance MBA Program from Henley Business College (UK) and professional Certificates in Human Resources. 

Radhika Shankar

Sr. Media Solutions Manager, Asia Pacific, LinkedIn

​Radhika Shankar is an experienced digital marketing professional whose experience covers the Asia Pacific region for Corporate and Search & Staffing verticals. When she is not brainstorming campaign strategies with her clients or testing out new Beta product features, she enjoys facilitating conversations & events around Diversity, Inclusion & Allyship at Linkedin.Beyond her professional endeavors, Radhika is often steeped in reading or watching political commentary, historical documentaries, and biographies of her favorite musicians and artists. 

Vo Thuy Lien

Talent Acquisition Manager, Jabil Vietnam

​Lien has 10+ years in HR and recruitment services management/delivery. She has worked for number of multinational companies and has intensive experience for talent pipelining & attraction, networking and digitalized recruitment process. In her current role with Jabil, she is leading professional TA team, working closely with all levels of business stakeholders to understand the hiring demand via forecasting, business strategy planning to deliver the efficiency of sourcing strategy, market survey toward dynamic talent requirements.

Tran Ngoc Thinh

Recruitment Manager, Mondelēz International

​Thinh is working in the Talent Acquisition team in Mondelēz International Vietnam.With accumulative 8 years in High-Tech, FMCG industry as Talent Acquisition Business Partner and Recruitment Manager, Thinh is known for his unique approach and his focus to build a Best-in-class candidate experience. He used to work in different industries: FMCG (Suntory PepsiCo), Ride-hailing (Grab), Automotive & Technology (Robert Bosch Engineering Vietnam).

Nguyen Xuan Son

Operation Manager, Operation Manager, Staffing and Outsourcing Services, ManpowerGroup Vietnam

​​Son Nguyen has 8 years of experience in HR consulting service and 2 years as internal HR, focusing on Talent Management and Learning and Organization Development in a multinational Insurance company. In combination with his Business Development background, his expertise also includes strong customer service knowledge and customer focused mindset.Son worked with ManpowerGroup Vietnam for 5 years as external HR Consultant before taking the lead of Enterprise Account as Operations Manager, Outsourcing and Staffing Service.Previously, Son had 5 years of work experience in different international hotels & resorts in Vietnam, Asia and Europe across all main departments.

Tracey Trang Do

Head of HR, Shopee

​Tracey is an experienced HR professional in managing consulting and technology industries. She started her HR career at McKinsey & Company, leading recruiting initiatives in various Asia-Pacific and Africa locations ranging from fresh graduates to experienced hires. Currently, Tracey is managing the HR function of Shopee and AirPay in Vietnam.Tracey graduated from National University of Singapore with a Bachelor's Degree in Engineering. During her spare time, she enjoys reading, trekking and traveling.

Who Should Attend
This webinar is ideal for Division Heads, Senior Managers, Executives in Human Resources, Talent Acquisition, Recruitment, PR & Marketing and Organizational Development. It is also useful for business leaders seeking for best approaches to their candidates and talent management.
Agenda
8:30 – 8:45 AM: Welcome and registration
8:45 – 9:05 AM: "Candidates Analysis to Recruit The Right Talent" from Ms. Nguyen Thanh Huong, Country HR Manager, ManpowerGroup Vietnam.
9:05 – 9:25 AM: "Employer Branding on Social Media" from Ms. Tracey Trang Do, Head of HR Shopee & AirPay.
9:25 – 9:45 AM: "Best Content Practices on LinkedIn" from Ms. Radhika Shankar, Sr. Media Solutions Manager, Asia Pacific, LinkedIn.
9:45 – 10:00 AM: "Emotional Touch For Successful Candidate Engagement" from Mr. Tran Ngoc Thinh, Recruitment Manager, Mondelēz International.
10:00 – 10:15 AM: "Recruiting Manufacturing Talent in Digital Age" from Ms. Vo Thuy Lien, Talent Acquisition Manager, Jabil Vietnam.
10:15 – 10:45 AM: Panel discussion & Q&A
11:00 AM: Event ends.​